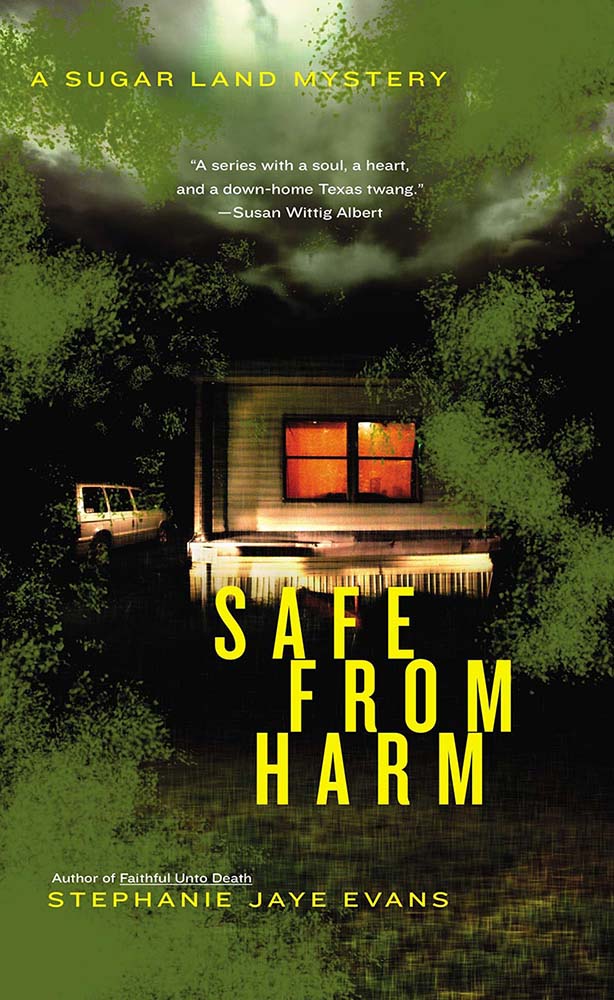 SAFE FROM HARM (A SUGAR LAND MYSTERY)
Book #2 in the Sugar Land Mystery series.
In a mystery featuring Texas minister Walker "Bear" Wells, a teen tragedy hits too close to home…
The ominous text message Bear Wells received from his teenage daughter Jo simply said: "Come home." The Texas minister never imagined he'd rush back to find her cradling the dead body of her estranged friend Phoebe. While the death rocks Sugar Land, the apparent suicide seems like an open-and-shut case. But nothing is settled in the Wells household, especially for Jo. The deeper she digs into Phoebe's life, the more she realizes nobody knew her at all.
Bear found it hard enough dealing with Phoebe's skimpy Goth outfits, painful-looking piercings, and the outrageous scandals she brought to his idyllic Sugar Land congregation, but now it's his daughter who's acting out. Jo knows Phoebe caused major problems between her picture-perfect father and stepmom, but she has no idea what's at stake or whose lives are in jeopardy. Bear's painfully aware that his last private investigation resulted in a bullet wound, so when Jo sneaks out alone to confront her primary suspect, he's not only praying that he'll find her in time—he's asking forgiveness for what he may have to do to save her.
What the critics say:
"Multiple plot twists, an engaging first-person narration, a cast of genuinely sympathetic characters, and a mystery framed by the details of the life of a minister combine for a satisfying story." – Booklist
Also check out reviews from CriminalElement.com, CrimeSpreeMag.com, and PublishersWeekly.com.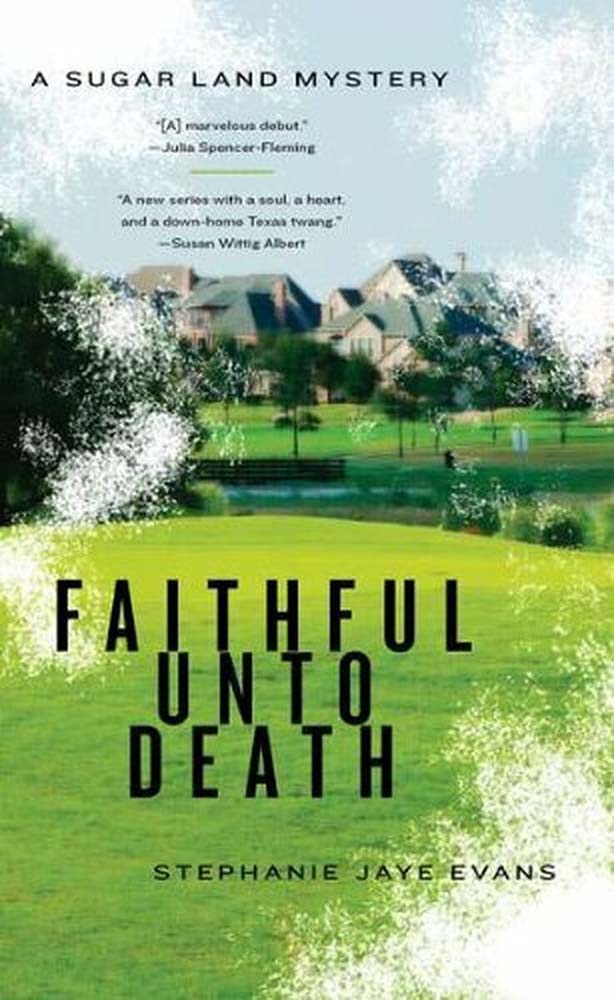 FAITHFUL UNTO DEATH (A SUGAR LAND MYSTERY)
Book #1 in the Sugar Land Mystery series.
No one knows that better than Walker "Bear" Wells, a former college football player now serving as a minister in this upscale Texas town, where famous athletes mix with ranchers and the local parish priest wants to arm wrestle. It's a beautiful master-planned community, but people can't be held to neighborhood restrictions, and Bear deals daily with emotional and spiritual problems, in both his flock and his own family.
But never murder. Not until a man is found dead on the nearby golf course, his skull crushed.
Bear has no interest in playing detective. His job is praying for the dead, not searching for their killers. But every time he turns around, another facet of the investigation tangles with his own life…like the fact that the murdered man's son—and a main suspect—is currently dating his own rebellious teenage daughter.
He made a promise to do the right thing. But keep­ing promises may be what led to murder…
What the critics say:
"Readers will look forward to seeing more of Bear, with his formidable intellect, tart sense of humor, and resolute sense of justice". – PublishersWeekly.com
HOUSTON NOIR (CONTRIBUTOR)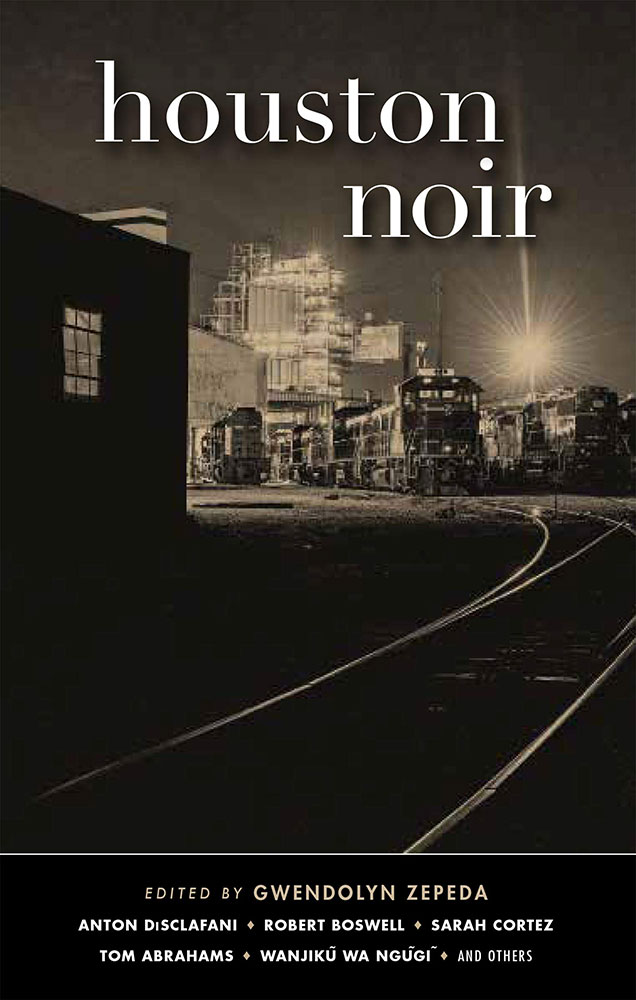 "Brooklyn Noir came first in 2004, and now, 15 years later, Houston Noir–14 stories of intrigue, betrayal and death set from Tanglewood to Third Ward penned by current or former Houston authors–goes on sale."
—Houston Chronicle
"Akashic Books's long-running Noir Series tasks writers with imagining the dark sides of their communities, spinning gritty, shocking tales atop the local landscape. Recently the publisher tapped writer and former Houston poet laureate Gwendolyn Zepeda to serve as editor on a collection of stories about her native Bayou City. The end result is Houston Noir, out this month, whose 14 entries explore the murder, betrayal, and brujería lurking everywhere from River Oaks to the Ship Channel to a trailer park off FM 1960."
—Houstonia Magazine
"Houston is a city on the rise when it comes to crime fiction–something about all those lonely highways, gravity-defying overpasses, and drastic urban sprawl (and of course, the crime rate) make Houston a perfect setting for noir. This port city of close to five million residents is ready for a new reputation as a world capital of literature, and we're here to support Akashic's new collection of noir tales from Texas's most complex city."
—CrimeReads, included in The Best New Crime Fiction of May 2019
"With sprawl and serial killers, Houston Noir packs a mean punch…Houston Noir is a welcome addition to the city's slowly filling bookcase."
—Texas Observer
"Editor Gwendolyn Zepeda has cannily divided the collection into four separate areas of the city, which only serves to multiply a reader's certainty: Like the sodden sheet covering a much-lacerated corpse, all of Houston is pretty much dripping with crime. Best to experience it, we suggest, only between the covers of this new paperback."
—Austin Chronicle
Akashic Books continues its award-winning series of original noir anthologies, launched in 2004 with Brooklyn Noir. Each book comprises all new stories, each one set in a distinct neighborhood or location within the respective city.
Brand-new stories by: Tom Abrahams, Robert Boswell, Sarah Cortez, Anton DiSclafani, Stephanie Jaye Evans, Wanjiku Wa Ngugi, Adrienne Perry, Pia Pico, Reyes Ramirez, Icess Fernandez Rojas, Sehba Sarwar, Leslie Contreras Schwartz, Larry Watts, and Deborah D.E.E.P. Mouton.
From the introduction by Gwendolyn Zepeda:
In a 2004 essay, Hunter S. Thompson described Houston as a "cruel, crazy town on a filthy river in East Texas with no zoning laws and a culture of sex, money and violence. It's a shabby, sprawling metropolis ruled by brazen women, crooked cops and super-rich pansexual cowboys who live by the code of the West–which can mean just about anything you need it to mean, in a pinch." For what it's worth, that quote is now posted on a banner somewhere downtown and regularly, gleefully repeated by our local feature writers.
Houston is a port city on top of a swamp and, yes, it has no zoning laws. And that means it's culturally diverse, internally incongruous, and ever-changing. At any intersection here, I might look out my car window and see a horse idly munching St. Augustine grass. And, within spitting distance of that horse, I might see a "spa" that's an obvious brothel, a house turned drug den, or a swiftly rising bayou that might overtake a car if the rain doesn't let up…Overall, this collection represents the very worst our city has to offer, for residents and visitors alike. But it also presents some of our best voices, veteran and emerging, to any reader lucky enough to pick up this book.